Can numerology help you find the best business name for your new company? Yes and no. As a numerologist, I am always getting questions like this, asking for help picking the best business name. "Please give me a lucky number for my business name" is often the request. Many new entrepreneurs already have ideas for their business names. Others seek advice to approach the most successful number. There is no perfect cookie-cutter formula! Finding a successful business name ultimately depends on you and your vision of success.
Marketing Strategy
The important piece in the "success" formula of your business name is that you must be willing to market yourself. First, find out what the personality of your enterprise is and what you want to achieve. The name has to make sense and have the energy of what you want to offer to the world.
To make sure this name is a fit for you, it is good to examine your business and personal goals as well as the type of client you are trying to attract. The perfect numerological business name does not fit every business or every person. You need to be in the equation. A made-up name with lots of letters that calculate to a specific number will not necessarily be successful for you. Understanding your destiny number will also help you see what you need to have to help you support your success.
Finding the Best Business Name Through Numerology.
With Numerology, we can look at the best numerical energy for your business name. If, for example, your business was a travel agency, a five (5), would be great as it deals with travel and fun. But, like I said, examining your goals further, perhaps your company is more of a collective where you work with a group and service their travel needs. If this is the case, a 6 might work well, which is all about service and community.
To find the expression number of your business name, use this Pythagoras Alpha-numerical chart.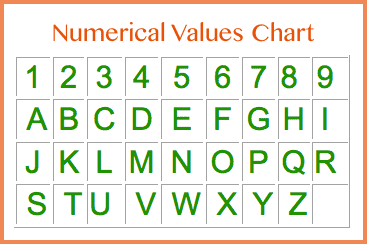 Here is my formula: Find a name that symbolizes you + Find a powerful expression number + Market your product + Be patient in the process = Success
As a case in point of this formula, let's look at the highly successful company: "We Work".
We Work is a clear and simple message where no one has to guess at its meaning. The company started in 2010 as a place for entrepreneurs and freelancers to share a space to work in NYC. It is now a billion-dollar company with 100,000 + members all over the world.
We Work has the expression number of 5. Five is a charismatic energy representing people, energy, and change. We Work had as its goal to fill a new "niche" to support the independent professional. Marketing and follow through was an important piece that assisted in the growth of their vision.
Apple. Also a 5. The highly successful computer company continues to expand into new forms of people-oriented projects. Apple began with the Mac. "User-friendly" was their slogan. Next came the iPad, then the iPhone. One thing I see in the Apple franchise – support for the customer is outstanding. And the Apple name? One rumor shows that it came from Steve Jobs and a fruit diet he was on.  The thought of Apple was fun and social and appealing.
Click here for part 2 which has the complete list of business name expression numbers and successful business examples.
Looking for a successful business name?
I would be honored to assist. I have several options.
1) Complete business name reading includes brainstorming, charts and 1 hour skype session. $185
2) Mini-business reading. Includes 1-4 business names and 1/2 hour skype session. $85
3) Short one answer question on your business through email. $60.
"We just want to thank you for your help finding our business name. Here we would like to show you our branding and color concept to our newest vision: Yoga Luna
Lots of Love, Tom & Janet" —Yoga Luna, Switzerland.
http://www.janetorzechowski.com/ 
https://www.yogateachertrainingbern.ch/

Other topics you might be interested in.