When looking at someone's birth name, married or changed name as well as nicknames, we can discover many aspects of a person's alter ego.
The system is based on the numbers 1-9.    Each letter of the alphabet has a numerical value.  For example, as you can see by the chart below, A, J and S share the number value of 'one'.  The energy of "one" is everything that comes to your mind when you think of that number: new beginnings, independence, resourcefulness and the ego. So when someone has a lot of 1's in their chart, they have an aspect of the independent thinker, assertiveness and leadership.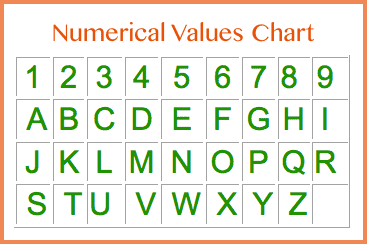 This website contains a variety of blogs detailing how numerology affects you, as well as how the numbers of well-known celebrities and businesses lead to their success.
Numerology Readings
A numerology reading might be the answer.
Find out more about my numerology readings here.
Check out this interview with numerologist, Greer Jonas
"Wow!!! Through your numerology knowledge, awarenesses, wisdom and command of it all, you help connect people to the infinite possibilities of who they are. Once again, my numerology session with you left me clear and inspired. Shine on Greer!!!" —Stacey Sherman, Chief Inspiration Officer of Spark to Flame
"I just finished the intention meditation and drawing from our numerology reading last month. I'm feeling more positive and I've been learning a new way to keep going in this journey. As I started to meditate and do the affirmation we did together, my back pain is going away little by little.   Thank you again for everything. " — Mel