Are you starting a business and looking for the best business name expression number for your success?
To find the business name expression number, use the Pythagoras alpha-chart below. In Part 1, we discuss the formula for finding a successful business name. First look at your goals for the business. Next find the best business name that fits your needs. Finally, get a marketing plan.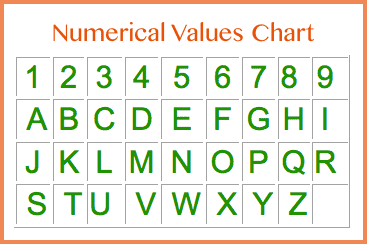 Here is the breakdown of 1 – 9 expression numbers and their values and examples of each.
1 — One is the leader in the field. The business name expression number represents first in new ideas and innovation.
Microsoft. Like Apple, they are brilliant marketers. The name Microsoft says exactly what it is — a small computer that has software inside. To note, before Microsoft and Apple, computers were huge and only developers and key operators used them. Microsoft and Apple revolutionized the computer so that every desk and home has one.
2 — Two is all about relationship, fairness, and balance. Although a quiet energy for a business, the 2 business name expression number might be good for a therapist or a coach.
11/2 is the master number of leadership and inspiring ideas. This would be great for a think tank or a computer online business.
Warren Buffet's Berkshire Hathaway has the powerful 11/2 vibration. The multinational conglomerate holding company wholly owns GEICO, Dairy Queen, BNSF Railway, Lubrizol, Fruit of the Loom, etc.
NOTE: I do not have an example of a successful 2. If you have one, send to me and I will give you a ½ hour free successful business name reading.
3 —Three is all about creative expression in every artistic form. – art, music, speaking. This would be a great expression number for an art/photography or music website
NESTLE – Nestle is the leading food and drink company in the world, especially known for its candy. It has a creative and attractive appeal in its presentation and marketing strategy. Kind of makes you happy.
4 — Four is the builder and the home. Its energy is very organized and gets the job done. A 4 expression (or 22/4) would be great for construction, manufacturing or just about any tangible product.
FACEBOOK.  The name originated in 2004 from a group of Harvard geeks (Mark Zuckerberg and his Harvard colleagues) who came up with a scheme to bring people together without having to call each other. Facebook was born with a name that spelled out a new type of "home" for people – social media through the internet. It was not until around 2012 that Facebook started making money. But marketing quadrupled its popularity.
5 —  Five is all about people, charisma, travel, entertainment, and fun. It is an extremely popular business expression number as it attracts an audience.
We Work is a clear and simple message where no one has to guess at its meaning. The company started in 2010 as a place for entrepreneurs and freelancers to share a space to work in NYC. It is now a billion-dollar company with 100,000 + members all over the world.
We Work has the expression number of 5. The company's goal is to fill a new "niche" to support the independent professional. Marketing and follow through was an important piece that assisted in the growth of their vision.
Apple. Also a 5. The highly successful computer company continues to expand into new forms of people-oriented projects. Apple began with the Mac, User-friendly" was their slogan, then the iPad, then the iPhone. One thing I see in the Apple franchise – support for the customer is outstanding. And the Apple name? One rumor shows that it came from Steve Jobs and a fruit diet he was on.  The thought of Apple was fun and social and appealing.
6 — Six is the number of the teacher and healer and deals with community and service. This would be a good number for a school, restaurant, or a healing profession. Like the 2, it would not be a fast selling product. Remember your goal. This is an energy of trust and nurturing. Like a family-style restaurant that has the same customers coming in. But it is not necessarily a vibration that makes money immediately. It is one that gathers a good reputation and then the customer will be loyal. In a business name,  In the examples below, the dependability and likability of the product has won out over time.
Honda. Honda is a Japanese public multinational conglomerate corporation primarily known as a manufacturer of automobiles, aircraft, motorcycles, and power equipment. It has become a household name for a dependable car to purchase.

Walt Disney. Along with being the name of the highly successful innovator and creator of cartoons such as Mickey Mouse,  the Walt Disney Company became the world's leading producer and provider of entertainment. Throughout the years, it has brought its movies, tv programs and products into the home — bringing the child and family a world of fantasy and joy.
33/6 — Master of Creativity and Service
Here is dynamic Beyonce with a destiny (the birth numbers added together) of 5. Five is the fire and out there in the world as an entertainer. Her effervescence permeates on stage.
Her perfume brand Beyonce, (coined as "Catch the Fever") is enticing to anyone who wants to be as exciting as her creative self. The 33/6 is the master number of divine creativity (33) and service (6), Beyonce is also a philanthropist as she has created a foundation to aid Hurricane Katrina and other charities.
7 — Seven is an intriguing number for me. Seven is about spirituality and seeking the unknown and the unique. Looking for the inner meaning of life. From the first view, you might think this would not be an especially successful energy in business. On the contrary!!! Again, keep in mind the marketing formula – what is your goal and have patience.
Google is all about searching for the unknown. Google unfolded its idea in 1998. And with perseverance, it became a verb used continually throughout the day to find whatever you are looking for. Google founders Larry Page and Sergey Brin coined the name google from a mathematical term "googal" meaning finding infinite possibilities.
Amazon is also an idea that is all about search. They created a service to assist the public to find a product without having to manufacture it. It became the largest e-commerce company in the world. Amazon also is a powerful word in itself. It started by Jeff Bezos named after the largest river in South America. His vision for the company to create large and growing.

8 — Eight is a great and powerful number for a business. It is an energy of abundance, power, and success. 44/8 is even more powerful as it is a master builder and success.
FEDEX has an 8 expression number. It is an American multinational courier delivery services company and leader in the field of shipping.
   44 — Goldman Sachs is a leading global investment banking, securities, and investment management firm with a huge client base.

9 — Nine, like the 7 is not as obvious. The nine represents transformation and completion. Seeing the bigger picture. This is the perfect expression number energy of a coach or transformational speaker.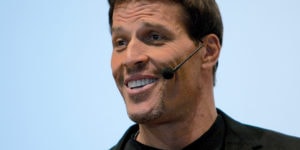 Thus self-help guru and entrepreneur Tony Robbins became a successful franchise. Again, promotion is key to success. And not for the shy entrepreneur. This charismatic leader assists people to live in their power and his business boomed.
One hour business name reading includes business charts, analysis and brainstorming
A 1/2 hour mini-reading includes 1-4 business name analysis
A short answer email session will cover one question that you have about your business name
Other topics you might be interested in.