I cannot think of a better way to celebrate 2018 than with January's celebrity of the month Oprah Winfrey numerology birthday wishes.
Oprah, born on January 29, 1954 has been through much trauma in her life as well as bountiful success, yet she never seems to forget her soul's expression —to make a difference in the world. She applies her challenges and her courage to press forward in her life and in the lives of others. This Oprah Winfrey numerology analysis illustrates the many facets of the talk show host, producer, actor, and director. Here we witness a relentless journey to achieve and inspire greatness.
As we listened to Oprah's inspiring acceptance speech at the Golden Globes, we heard the voice of empowerment. She encourages us to examine ourselves. Are we moving through our lives in a passive way or are we living each moment in our own unique brilliance?
"What I know for sure is that speaking your truth is the most powerful tool we all have." —Oprah Winfrey
(This quote is from Oprah's acceptance speech for the Cecil B. DeMille Award for lifetime achievement at the Golden Globes on Sunday, January 7, 2018) Read full speech in Variety.
Oprah Winfrey Numerology Chart
Examining the above Oprah Winfrey numerology chart, there is much to discover.
Destiny 4
To find Oprah's destiny, add all the numbers together in her birthday. 1+2+9+1+9+5+4=31. 3+1=4
Oprah's destiny (or life path) is a 4. This is the number of the builder and organizer. It is the person who gets things done, who understands how things work. The four is grounded and represents the earth, the home, and structure. Bill Gates is another example of the 4. The Shadow of 4 is to be controlling and impatient. This might be true for both Bill and Oprah.
What does the name in numerology tell you?
When we look at a person's numerology chart, we look at the birth certificate name as well as the name they are called.  When someone changes their name, it is also considered in the analysis.
In Pythagoras numerology, we look at the alphabet and the alpha/numerical value based on 1-9. (Note, there are other formulas used, such as in Chaldean and Kabbalah numerology, where the number 9 is not included in the calculation. See this post to explain more.
Here is the Pythagoras chart: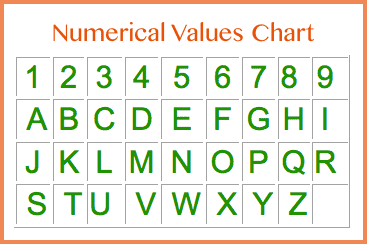 Soul's Essence Number in Oprah Winfrey Numerology Chart
When you add all the vowels in the name, the sum is called the Soul's Essence number. (Please note that the letter "y" is considered a vowel.) The soul's essence is the energy that encompasses what is inside a person, before environmental, personal or educational influences.  It is what the soul represents as they came into birth.  The number "1" appears in both charts above.
In Oprah's birth name, she has a master 11, (When two numbers are the same, such as 11, they are not reduced because they are so powerful.) In Oprah Winfrey, she has a 1 Soul's essence. The one influence is the leader and inspirer. The master 11 is about divine inspiration that comes not just from knowledge but from intuition and tapping into your higher power. When someone truly uses their 11/2, their ideas and leadership can have the effect of changing others and the world. There is no argument here.
Value System Numbers
To find the value system number, add the sum of the consonants in the name.  This number explains how a person comes across and what they are attracted to.  In Oprah's two numerology charts, she shows a 5 and a 4 value system number. A 5 value is all about charisma — not being afraid to be out in the public and show all her vulnerability and personality.  A four is very particular to details as they thrive to create and build structures of all forms,
Expression Number In Oprah's Chart
Here we see more master numbers.  The expression number represents how a person expresses themselves in life. We again see the same number in both name charts. Oprah's expression number shows a 7 and then a master 77. Wow, 77 is a rare master number. The seven in expression is all about spirituality and the non-conformist. The desire is to delve into the unknown and communicate that which is not obvious.
The master 77 is Like Alchemy
While a 7 is often shy, the 77 is beyond worrying about feeling like they do not belong. In fact, they thrive to be different. 77/5 is reaching through the meaning of things and taking action.  77/5 is transforming "enlightenment" into freedom through action.  It is like alchemy. Thus, Oprah can tell anyone about a book that moves her and will inspire others to buy and read the book.  Her speech at the Golden Globes Awards for lifetime achievement encouraged women to take action and to speak their truth.  And as a black woman, she motivated us to not be afraid of what others think. She showed us all to be proud and to step forward through example, displaying the power within us.
What About You?
Are you feeling the change in your life? Are you ready to take action?
You can discover "your unique path"
with a 90 minute numerology reading.
Perhaps you are looking to change your name or create a new business. Working with numerology can help your success.
Check out the various numerology reading options here. Or contact me at [email protected] to discuss.
Other topics you might find of interest: