Celebrity Numerology Readings for October:
Deepak Chopra & Bill Gates' Numbers
What do Deepak Chopra and Bill Gates number have in common? Here are two substantial leaders that you might not ever consider comparing.  But sure enough they have quite a few parallels.  Both born in October, a birth month of leadership (1) and potential (0), they have other similarities based on their name charts.
Were you born in October?  Read more about  the 10th month of the year.
Bill Gates' Numbers Show the Four Destiny
Bill Gates, born as William Henry Gates on October 28 1955, is known as one of the main leaders of the computer revolution and creator of the software company named Microsoft.  As entrepreneur, philanthropist and one of the wealthiest humans on the planet, Bill Gates' numbers illustrate a 4 (four) destiny (or life purpose).  The four life purpose is the builder, someone who always gets the job done, and has a deep understanding of how things are connected to each other. (Read more about the 4)
As Bill Gates, his numerological name chart illustrates the master "33" in his expression number. The 33/6 is a powerful energy of creative expression and service, that can ultimately change the world. How true.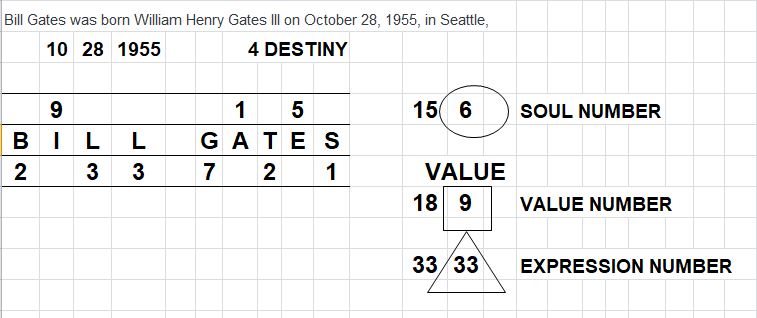 Deepak Chopra's Name Shows a Four Expression Number
Deepak Chopra, born October 22, 1946* in New Delhi, has a 7 destiny number.  Chopra is an alternative health practitioner, motivational speaker and writer (The 7 Spiritual Laws of Success). He is most known for connecting human health and spirituality.
So the 7's life purpose is one of the non-comformist and spiritual visionary.  It is clear that Chopra follows the unconventional path as unique leader alternative viewpoint to life's journey. (Read more about the 7 destiny.)
Taking a look at Chopra's name chart, we can further understand the grounding numbers that help his success.  His soul number (9) of universal compassion and transformational ideas combines with the organized expression number (4).  Like Gates, Chopra uses his four to build and organize his unique thoughts into form.  Without this organization and perfectionism, it is often hard for the 7 life purpose to bring their ideas into form.
* (Note: unfortunately, Chopra's birth year is debatable.  I have seen 1946 and 1947, but since all the astrology reports say 1946, I am going with the latter date for my analysis).
What is your destiny? You can find out here. 
Where are you now? Would you like to become aware of your potential through numerology? Please email me at [email protected] or submit a comment below if you would like to know more through a numerological reading or workshop. Looking forward to hearing from you! Greer
Looking for a quick answer to your question about your numbers?
Take a look at my new feature. I am offering email and 15 minute mini-sessions to answer your questions about your destiny, seeing the same number all the time, etc. Check it out!
Also available are mini-sessions to answer questions about your business. Click here.