Do numerologists believe that your home address number can influence your life?  The answer is yes, most definitely.  It is interesting to compare the theme and challenges of your present day address to your childhood address, which is covered in part one of this series.
Analyzing Your Home Address Numbers
Currently I live in the South at 44 3rd Avenue 3R. Again, I repeat the pattern of double numbers that appeared in my childhood address. Is this a good thing or a bad thing? — Jason
44 3rd Avenue 3 R
Ha, not good or bad, I see numbers as inspirations and challenges. The number 44 is the master builder and manifester. Living in such a vibration will help the inhabitants to connect strongly towards studying and building a foundation in a powerful and unique way.  In its challenge, perfectionism and impatience may be key to someone who has a strong vision on what they want to achieve. This would apply to all who live in the home, so sharing each other's brilliance without judgment is key.
Three is Creativity / Five is Energy
Now add the 3 to the mix. Guess what? Another house with an 11 vibration!!! (4+4+3 = 11).  Are you living in your inspiration currently? The apartment, 3R (3+9= 12/1+2 =3) is another three vibration. The three creates a home environment of creative inspiration and self-expression in every way, be it art, music, speaking or writing.
Adding the sum: 4+4+3+3+9 = 5.  Living in a five abode can be very active, with lots of movement and social activity.  It can be an ever- changing time without much stability, but also can be a place of fun and connection with people.
What You Can Do
With all the 4s and all the 3s, you have the potential to build a stable and creative life where you can step out in the world and empower others. The only challenge here is it is not a very restful and peaceful address. The energetic five vibration may influence you to want to be active all the time. This could be exhausting!
How can you rest? One way would be to put calming colors in your apartment like blues and greens. Plants would also be helpful and if you are so lucky as to have a garden or patio, make it a place you could go to, to rest your active mind.
∞∞∞∞∞∞∞∞∞∞∞∞∞∞∞∞∞∞∞∞
* The address of the White House is 1600 Pennsylvania Avenue, NW. This sum of the address (do not add "Avenue") is a 7. The seven vibration is all about connecting to the unique and spiritual inner meaning of the world (kind of like, the bigger picture).  Hmm.. interesting that the presidents of the USA live there. We can only hope that it helps them see the bigger picture of politics and international and environmental affairs.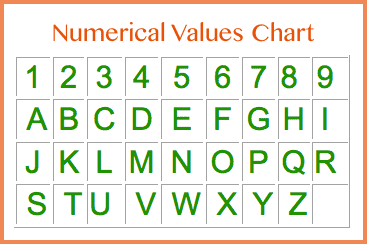 ∞∞∞∞∞∞∞∞∞∞∞∞∞∞∞∞∞∞∞∞