"Dear Greer: My birthday adds to a 44 master number (8/29/1978) and I have a life path of 8. I was born the same day as Michael Jackson a Virgo. I am very sensitive like him and love music and I am a great communicator. In fact, I have a degree in journalism, my passion is the media, though I'm not in it. What does this mean?" —Mark
Answer: Congratulations Mark, having a 44 master number life path (or destiny) is very rare as it can only happen with people born with very high numbers in their birth years (late 1970s, 80s, 90s) and will not happen again in our life time for people born in the turn of the century 2000.
In my view, as a numerologist, your life path is not just an 8 as you mentioned in your question above, it is a 44/8. To find your destiny or life path, add the sum of all the numbers in your birthday like this: 8+2+9+1+9+7+8=44. Master numbers are very powerful, so we do not reduce.
The 44 is the powerful manifester (44) and charismatic leader (8).  Can you relate? You could be out there making a difference in the world using your mastery as you embrace your dreams and make them so.  The challenge is to be patient in the work that need to be done to accomplish the big tasks. In addition, follow your true vision for the bigger purpose and not to satisfy your ego.
It is rare to have a 44 destiny. Thanks to one of my readers, Carito, I have found Swedish musician Avicii. See below for more information about Tim Bergling numerology. To note, when figuring out your destiny, you must add each number separately: the month  + day + year just like this: 8+2+9+1+9+7+8 =44. No short cuts in your calculations! (If you have found another celebrity, email me your answer at [email protected] and I will give you a free 30 minute numerology reading!)
Besides looking at the birthday, how can numerology tell me more about myself?
Answer: By looking at the number themes of each letter in your name, you can discover the inner depth of how you express yourself and what makes you unique. You can also find your  challenges and lessons in life. Check out the Pythagoras chart below to see the number value of each letter.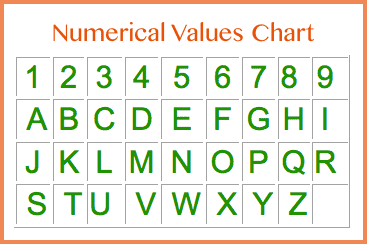 The 44 Master Number Can Appear in a Name.
Bono's Numerology Chart
In a numerology viewpoint, Paul Hewson (born May 10, 1960), known by his stage name Bono, has the master 44 in his expression number.  (See chart below.) As a singer, song writer, musician, business man, philanthropist, and humanitarian, Bono (of the band U2), exemplifies his powerful mastery as a builder, manifester and leader. He uses his popularity and inspired music to make a difference and influence others to see beyond their mundane lives and to take action. Through his benefit concerts and religious, social and political themes of his songs, Bono engages and promotes change.
As you can see in the numerology charts below, Bono is filled with master numbers. The sum of his birth name, Paul Hewson, add to a 44. This calculation is called the expression number and illustrates how a person (or business) communicates. You can also see, with Bono, his expression number is a 1, expressing himself as a leader and inspirer.
Finally, Bono's destiny is a 22, which is powerful mastery in relationships and accomplishment.
About Michael Jackson in Numerology
Since you mentioned Michael Jackson in your question, Mark, I will have to say that this deserves a post onto itself. But to be brief, Michael not only was a master performer, singer, dancer and producer but an enigma to the world. Check out his master numbers (33 and 22) in his numerology charts.  Read more about Michael here
Avicii had a 44 destiny
Comment from Carito

I found out that the Swedish musician, Tim Bergling (Avicii) was born September 8, 1989 = 44/8
Greer: Congratulations Carito, you have discovered the very rare birthday combo that adds to the master number 44. As promised, I will give you a free 30 minute skype session on your 44 destiny.  Here is the chart for Avicii. Tim coined his name Avicii at an early age. He was a  DJ, remixer and record producer, nominated for two grammy awards.
His music was moving and although he died young in April of 2018, his music and his charisma still has his audience connected from the heart and deeply sorrowed for his passing. The 44 in mastery is one who is builder and powerful manifester, one who can create something that is powerful and can change people's lives.  Also his expression number in both names is an 8 — All about abundance and power. Check out his most famous song. Wake Me Up When It's All Over.
Here are some lyrics to Wake Me Up. Moving to the end of time to all that want to make a difference and want to live life to its fullest.

Wake me up by Avicii

Feeling my way through the darkness

Guided by a beating heart

I can't tell where the journey will end

But I know where to start

They tell me I'm too young to understand

They say I'm caught up in a dream

Well life will pass me by if I don't open up my eyes

Well that's fine by me

So wake me up when it's all over

When I'm wiser and I'm older

All this time I was finding myself

And I didn't know I was lost
________________
Other celebrities with master numbers of 44

American Actress, Hillary Duff (born 9/28/1987)
American Actress: Danielle Panabaker (born 9/19/1987)
New Zealand Comedian: Guy Williams (born 9/19/1987)
Other topics you might enjoy:
What is your destiny number? Find out here. 
Greer Jonas is an intuitive numerologist, teacher and artist for over 20 years. She conducts readings in New York and Connecticut, through skype and phone. To book a reading, click here. Or to get more information on classes, or to find out how numerology can help you, contact [email protected].