In honor of Martin Luther King
As we honor the birth of a great visionary, Martin Luther King, numerology once again illustrates how a name can support the mastery inside of you. Case in point, King's birthday and name have the numerical vibrance of a powerful leader.
I remember the 60s, as a youth growing up in a white suburban, sheltered neighborhood. Suddenly the country began to stir. The Beatles (with their long hair) emerged with songs to think about.  And then talk about making a difference and feeling pride in one's 'thought process' began to build. The youth began to ask questions about the meaning and fairness of life. And then began the tragedies of the assassinations of beloved President John F Kennedy in 1963 and then Martin Luther King in 1968.  The first shocks to my gentle and safe world.  But King's influence did not die. His powerful impact on the world grows to this day.
The Destiny of One.
Martin Luther King Jr was born January 15, 1929, in Atlanta, Georgia.  His destiny, or life purpose was a 1, the numerical value of leadership and brilliant ideas. Read more about the 1 destiny.
1+ 1+5+1+9+2+9=28. 2+8=1
From early on in his short life, the Baptist minister and civil rights activist became one of the most influential figures our world has ever known. Pivotal in ending segregation of African-Americans in our country, he moved us all on a new journey and shift in attitude towards achieving equality for all.  
Let's take a look at what his name chart shows.
Master Number 11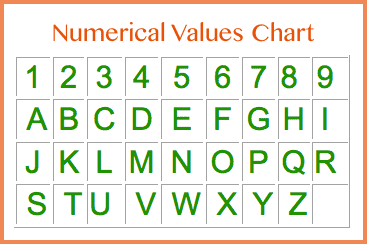 As you can see from his numerical chart above, the letters in King's name add to the master number of 11.  (Note: master numbers occur when two numbers are the same, like 11, 22 and 33. ) Eleven is the master number of inspiring leadership whose ideas can make a difference in changing lives. And how true, as a charismatic orator, his words and actions moved the  world to  an understanding of peace while fighting for what is right in equality of human-kind.  King's value, or personality number, (the consonants added together) also an 11, showed his vision to lead and inspire others.
Martin Luther King had a 'Soul's Essence' number of 9.
We also see King's "soul's essence" (the sum of the vowels) to be that of the theme of the 9. This numerical energy is all about transformation, all about change, all about the bigger picture. (Think Gandhi). According to numerology, 9 is compassion for the world.  King's life was dedicated to a vision of peace and equality and he successfully influenced an entire nation through his activism.
Martin Luther King's I have a Dream Speech
Martin Luther King's inspiration is so beautifully illustrated in his "I have a dream" speech. I remember as a youth how this speech and brought me to tears. It still does. So tragic was his assassination in 1968. That day I will never forget.
"I still have a dream, a dream deeply rooted in the American dream – one day this nation will rise up to the true meaning of its creed, "We hold these truths to be self evident: that all men are created equal." I have a dream..
I send the dream out as a mantra on this day and all days that we see beyond our petty desires and disagreements and move into empowerment and peace for us all.
 Other posts you might enjoy: