This has nothing to do with numbers, but I keep hearing and seeing the same name all the time. I see "Mark" almost everywhere as if it is something I have to be aware of. I don't even know a guy whose name is Mark. What does it mean? —Lori
Answer: HI Lori, What an interesting question. At first glance, I want to say that similar to seeing the same number, seeing the same name all the time is trying to tell you something.
Have you seen Mark?
First thing that comes to my mind is the word or name "Mark" means to point something out. What is happening in your life that you need to pay attention to?  If you started a "Mark" journal you might discover more about this message. When you see or here the name, write down what you have been seeing or doing or feeling.
I have had a series of friends and boyfriends, that have had the same name that were important stepping stones in my life. Almost like the name takes on a meaningful effect in my life. And, who knows, a real live Mark might appear in your life as well. hmmm..
What is your growth number?
We can take this a step further into what numerologists call the "growth number" (or key number) which is the sum of your first name added together.
When you add the numbers of your first name together, it forms the vibration of what helps you grow in life. Lets take a look at "Mark". (see chart below) The letters of Mark add to a 7 growth number.
The growth number of Mark is a 7. So very interesting for you. The seven is all about inward thinking, spirituality and connecting with what cannot be seen—the unknown.  If someone has a growth number of 7, what helps them grow is to accept them selves as a unique being. They are the non-conformists and their lessons are self-love and to enjoy their own quirkiness. It is important to search within to find their answers and not to seek approval from others.
How is this lesson important in your life now?  If you keep seeing the same name (Mark), how are you searching for something that will ultimately help you grow in your life?
What is your growth number?
Think Google!  G(7) +O(6) +O(6)+G(7) +L(3) +E(5) =34. 3+4=7. The growth number of Google is the 7 which is all about "searching" for infinite possibilities.
Calculate your first name and find your growth number. Use the chart below.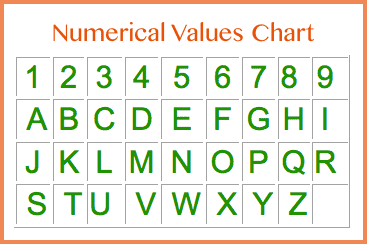 What does your Growth Number mean?
Find out here.
What About You?
Do you see the same number or name all the time?
Or wanting to learn more about yourself through numerology?
Click here for a mini-reading to answer one question.
You can discover "your unique path" with a personal numerology reading.
Looking to create a new business and to find a business name that matches your vision and is successful? Read more here.
Other topics you may enjoy.