"My life is disappointing. I wonder if I have bad numbers. Should I change my name?"
I get ponderings like this a lot in my numerology practice.
Here is a sample from a reader who has some numerology research under her belt.
"I think maybe I should change my name. Is it bad to have an expression number 1 and destiny number 3? Seems like my name hasn't worked well for my life. What are some best female names that begin with K?"
I will lead with a simple answer. I do not believe in "bad" numbers. All numbers have its brilliance and its shadow. It is your attitude and the way you work with the qualities you have that helps you thrive in life.
3 Destiny Number
To find your destiny number, add your birth month+day+year. A 3 destiny number is about creativity and self-expression in all creative ways — art, writing, speaking, acting, producing, and so on. Three is the ability to step out and share your unique voice. Your lesson and challenge is to act on your form of expression and let go of your inhibitions and self-judgment.  Yes, self-judgment is the killer. I know it well. (I have a 3 destiny:) Am I ever enough? What do people think of my paintings and writings? These are self-defeating questions. I try to hold the daily mantra: "Breathe and let my opinions go"
So as a 3 destiny, your life purpose is to share your gift of expression. If you are disappointed in your life, find a way, every day to be creative. Do not judge! It could be a simple as cooking a great meal, or arranging flowers, or writing in your journal. In your career, you can look at how you are feeling fulfilled with the people you are working with. How are you communicating in your everyday life and are you enjoying the ride?
Expression Number 1
To find the expression number, we look at a person's name and then calculate a chart based on the alpha-numerical calculations. I work with the Pythagoras method for my numerology calculations, which is based on the numbers 1-9. (See other methods, such as Chaldean) Follow the Pythagoras chart below to calculate your name.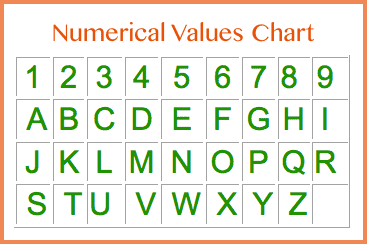 In numerology, we look at the birth name, the name you are called, as well as name changes, such as spiritual and marriage name changes. The one expression number is independent, an innovator and leader. This is very strong to set out and make your mark, but again the lesson is to trust and love yourself and your mission. The 1's ego can get in the way in many ways — like you can be too controlling or afraid of what others think. There is much more to look at besides the expression number in a person's name, such as your soul's essence (vowels added together) and your value system number (consonants added together). This discussion is vast and will not be covered in this post. See celebrity topics below to discover more about the different aspect of a name.
Should I change my name?
Are you wondering if you should change your name to fix what isn't working? To reflect on your question, if you feel like you are not doing well in life, first consider, if you are putting yourself down with self-judgment, how can you approach life differently? How can you live in your power and strengths?
A name change comes last and only if you really do not feel that your name suits you anymore. This happens with several clients. They absolutely know that they want a different name, or perhaps have been given a spiritual name, or looking for a pen name or a new persona as a celebrity in acting or singing.  I can guarantee this. It is not easy to change your name. You need to be persistent. Your friends and relatives might be stubborn to call you by a different name.  And you have to live with it before you are even comfortable with it. I always suggest with my clients to live with the new name for at least a month (longer if you are uneasy) till it feels right.
Martha Stewart used to be called Martha Kostyra
Let's take Martha Stewart as an example of a name change. Her birth name was Martha Helen Kostyra. She married and divorced, but kept her married name Martha Stewart. It is a much easier name to pronounce and has the expression of a 5, which is the gregarious energy of a celebrity.  Read more about Martha here.
"Without an open-minded mind, you can never be a great success. I catnap now and then, but I think while I nap, so it's not a waste of time."
Do you have questions about your name and vision in life? Perhaps a numerology reading will help.
60 minute reading: "should I change my name?" includes brief analysis of name you are called now and brainstorming on new name.
90 minute reading: includes thorough analysis of names and birthday as well as brainstorming on a new name.
Other celebrities that changed their name