The Power of Words and Thoughts have an effect on our lives.
"What we imagine in our minds becomes our world." —Masaru Emoto
It is believed by many master teachers and spiritual guides that the power of words and thoughts have an effect on our lives.  If we think or speak judgmentally of ourselves, the universe will give us that negativity.  So if we continually think or say out loud, "I am a failure", the energy of failing becomes even stronger. Conversely, when we think about our lives filled with abundance and success, the universe will give us many opportunities to reach our aspirations.
I know, for me, as I open to the lightness and passion of painting, my mind goes many places and sometimes they are muddy. As I shift my thoughts and words moment to moment (with the help of playing Deva Premal while I paint) I watch the colors on my canvas tell their story of inspiration. (See my art website at www.greerjonas.com)
---
Lets look at the word "Wisdom".
Doctor of alternative medicine, Masaru Emoto is most known for his work with water to illustrate the influence of words and music on water crystals. It is so interesting to see the word "wisdom" in its crystalized formation. See illuminating image to the right.
Emoto explains his work in this way: "Why would a crystal formation be affected by music, and why completely different results would be reached depending on the spoken and written words water was exposed to?  Water, so sensitive to the unique frequencies emitted by the world, essentially and efficiently mirrors the outside world." Read more about Emoto's findings.
"Wisdom" in numerology terms
In numerology, each letter has a number value based on our alphabet.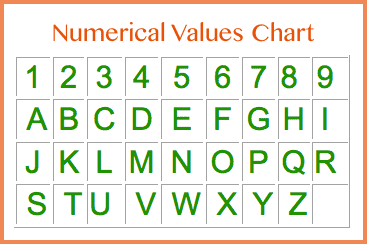 Lets take a look at the word "wisdom".

11 is the master number of divine inspiration. Using this energy can have an effect on the world. Read more about 11 and November 11.